As we get into 2019, I have a feeling several things will be changing and hopefully, for the better! 
Some new opportunities for me to teach art workshops have opened up.  I just need to look into these to see if they would be a good fit for me.  I can still teach workshops at the Gem Center, however, they no longer do advertising of your classes for you, and that is what I need the most.  And it is $10.00 an hour to rent a space to teach at the Gem.  It is more cost effective to teach at my home art studio.
A new opportunity just came up for February 5th, in the evening from 7 - 9 PM.   Red Rock Christian Church has invited me to show my art work and give a 20 minute talk about each piece of art.  This is something new that I am looking forward to doing.  The date has not been set.  More about that later!
Another new thing is that I plan to an art vendor at the Bordertown Comic Con in March of this year.  It is in Ontario, Oregon. That will be finalized in February cause I still need to reserve my spot.  I am excited about this because it will be the first comic con I will be doing as an art vendor that is outside of Idaho.
I'm also planning to enter a juried show called We Art Women, which will be exhibited at the Art Source Gallery.  Not everyone who enters will be accepted into this show, so just being accepted will be an honor.
And last, but not least, I am planning to enter the BOSCO open studio event that takes place each year in October.  This requires some input of money, which is why I haven't been able to enter it in the past.  But this year, I finally paid off ALL my credit cards and I have extra money!  Whoopee! I will be really excited if I get into this cause it is good exposure for artists here in the treasure valley too.  The deadline for entering is March, so I have some time.
Right now, I am back into painting animals--mostly dogs, sloths and farm animals.  I have posted my latest animal painting--an adorable sloth.  The title/caption of this piece is "Mirror, Mirror on the wall, who's the fairest of them all?"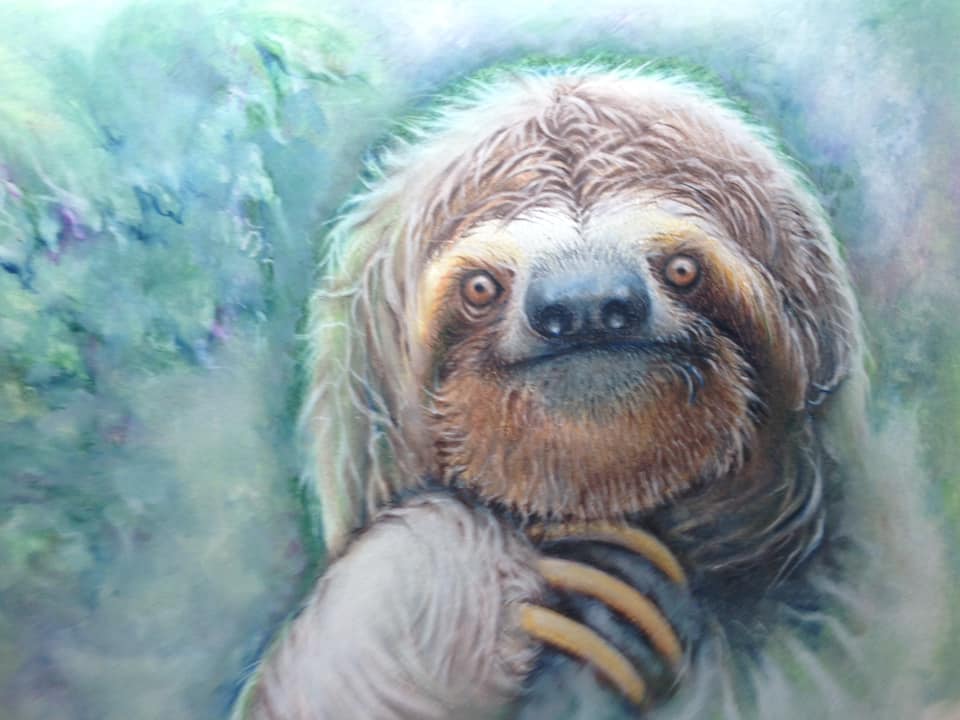 As of January 2019, the Children's Book, Bummer and the Nanny Goat, has not been published and it is not certain that the illustration I did that was intended to be the cover of the book will actually be used as the cover.   I am hoping that this have a happy ending, but as of right now, I can't tell.  It could go either way.

I haven't blogged for a long time.  It's been about a year as a matter of fact!  I stopped blogging because getting people to follow my blog was harder than I anticipated.  But the New Year is almost here and I'm willing to try again.
This has been a good year for my career.  I have accomplished some important goals!
1)  I illustrated my first CD cover for Richard Soliz and the Blue Rays!  It has yet to be marketed in the stores and online. But that will come.
2)  I won first place at the Idaho Fair, along with a special award gift certificate, for my painting, "Raspberries:
3)  I exhibited and sold my art at two comic cons here in Boise
4)  I applied to be an art teacher at the Gem Center for the Arts here in Boise.  My classes start in February of 2018.